The following are the services offered by Sybor Solutions:

Managed Services
Today's IT organization is a myriad mix of technologies, platforms and applications. The IT is constantly challenged to deliver reliable, available, secure services to its user base and that by no means is a small task. Throwing point solutions at the first sight of problem symptoms do not make the problem go away.


Managed Security Services
Set your mind at ease with SYBOR's 24x7 Information Security Surveillance Services (24x7 ISSS). It offers round-the-clock monitoring of your network, safeguarding your critical information assets.
The 24x7 ISSS employs a combination of "People, Process and Technology" to help your organization prevent, detect and respond to vulnerabilities and threats round-the-clock.


Vulnerability Assessment
In this engagement of Internal Vulnerability Assessment, we act as your defender and undertake a security review of your network infrastructure, critical systems and applications, in order to determine their adherence to international security standards and established best practices.


Penetration Test
This is accomplished by performing a controlled and managed simulation of an actual attack/intrusion attempt against the servers supporting the Internet-provided business services. The attack simulation tests the various infrastructure components against all possible attack scenarios, taking into consideration different levels of potential external attackers and resources available to them.



<![if !supportLineBreakNewLine]>
<![endif]>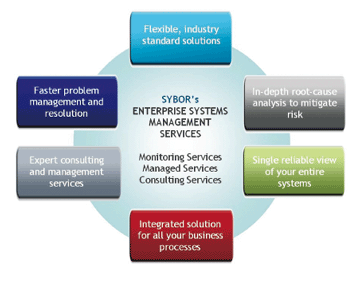 SYBOR specializes in outsourced Enterprise Systems Management (ESM) services partnering with leading-edge ESM vendors. SYBOR is a Certified Service Provider for NetIQ and BMC Software for their distributed system management tools. SYBOR has been in the ESM space for over a decade and has serviced 100s of engagements for Fortune 500 companies in the US. Acquiring and deploying talented, competent resources with in-depth product knowledge and best practices to mitigate the risks faced by today's IT managers in a cost effective manner is nothing new to SYBOR.
<![if !supportLineBreakNewLine]>
<![endif]>